medical device illustration
Highly Detailed Illustrations and Animations
Medical Device Illustration
No matter what your product is Tom Dent 3D Animation Company can help you. Our extensive experience across multiple sectors which includes luxury brands that require high-end skills in turn these high-quality skills are transferable for services such as medical devices.
Imagery and animation can be produced at multiple levels of complexity depending on your requirements, for example, a training animation video may not require the same level of detail as product imagery used for sales.
Animations and Illustrations can communicate precise details of a product operating which would be otherwise impossible. A device can be animated in any scenario for showing external and internal intricate details of the device for demonstrations.
Animation can be used to show practical workings for example instruments used to remove ear wax from the ear canal. Procedures such as ear wax removal would be impossible to film in a non-graphical way which would be acceptable for use for marketing to the public. If your animation is to graphical they will be banned on certain advertising platforms.
It is not always the practical details that you may want to show sometimes it is required to show more in-depth mechanical demonstrations of inner workings of a device to educate customers on why your product is far more advanced than competitors equivalent product.
When it comes to communicating services to the public we are able to advise on the best practice which will help your video gain not only information benefits but also SEO which will, in turn, give you the marketing advantages that are so critical to becoming noticed.
Visual communication is the strongest tool available to any business, sector or marketing agency. This is especially important when medical equipment is involved break in-depth topics into easy to follow animations that anyone can understand. Animations benefit not only healthcare professionals but also trainee staff and patients.
Animations can be used just about anywhere! typicallly they are used for training videos, demonstrations animations, product explainers, trade show exhibitions, presentations, billboards, brochures, broadcast and more.
We are able to create animations in a various array of styles from 2D, 3D, mixed media, Live-action with CGI integrated, Photorealistic, Hyper-realistic, X-Ray, Cell / Toon Shaded, Sketch style are just a few ideas of what we are capable of producing.
The process of animation is intuitive and easy to complete we can walk you through this stage by stage, we strive for high-quality work not only in visually but also animated with correct timings to give that real-world look and feel. Read more here!
If you require high-end cinematic animation this is no problem we have extensive experience in high-end rendering and compositing which is required for the film quality look and feel. We work within high-end visual effect software called Houdini and render within Redshift which we have a large array of tools for producing the highest level of complexity when it comes to visual effects. Read more here!
Majority of companies already have pre-existing cad data which most likely is used for manufacturing. This existing cad data can be used for animation and imagery, although its not an import and magic button click.
We will just about always remodelled client cad data the reason for this is usually cad data imports with errors and if they are not addressed they can propagate throughout the pipeline. The other benefits of remodelling cad data mean it is more efficient for rendering and animation allowing a higher quality finish on the final product.
When creating certain animation effects and visual effects cad data is not the best solution and remodelling is required. When fabric and cloth is involved these elements are digitally sculpted or simulated to the highest level of realism.
There is also the scenario where you have no CAD data this is not a problem and it was actually the case on a project for Medela we were not able to access the CAD data so Tom Dent was required to 3d model from the physical product which you can view the final wireframe to the side of this text along with preview renders. The final product was animated for use within a large project.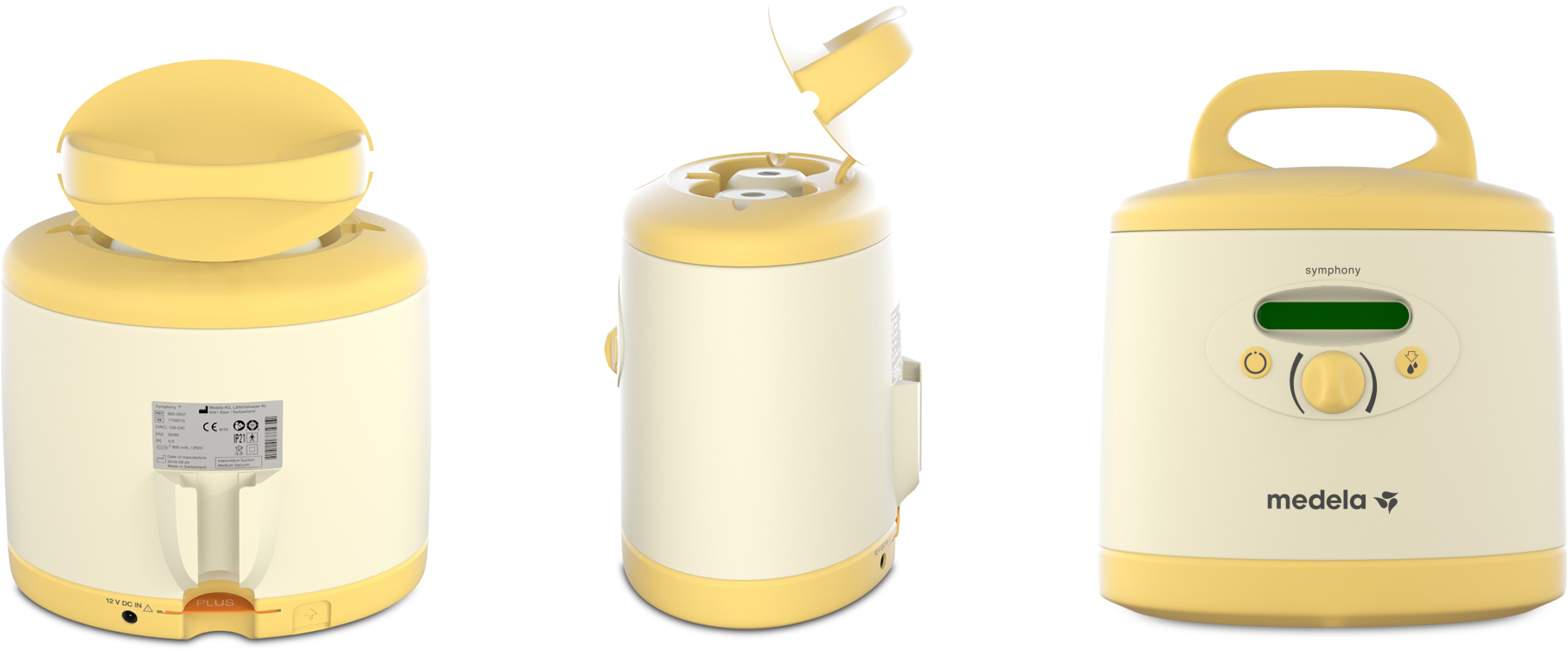 Photorealistic | Digital Asset
Once the 3D modelling is complete it is then the lighting and material stage. This is where the styling starts, for example, photorealistic, cell/toon shaded, non-realistic materials etc…
But realism is not just about how the lighting and materials work when an animation is involved it is also about how the movements are timed this is crucial when producing animations.
Although we are working within a digital environment we will approach the lighting in the same way as a photographer although we have more control and ability due to the digital nature.
It is also a great advantage of working in a digital environment as there is no retouching the imperfections like a photographer would have too. We can also keep the look consistent across a product line using the exact same lighting and shading lines across multiple products.
Our extensive high-quality compositing and retouching skills for luxury brands allows for the ultimate control. Sometimes to get the exact look and feel of a product its necessary to build custom 3d materials which are layered with complex details.
When taking a 3D asset to the next level and producing multiple photorealistic assets such as animation and imagery which is formated for multiple platforms and vary in the resolution we are to programme bespoke pipelines which can handle vast amounts of final assets required but still retaining the high-quality finish.
Find more in-depth reads below